The Public Relations Officer of the Gombe State Police Command, Mahid Muazu Abubakar, on Saturday spoke about the marital life of an average officer, saying once a police officer marries the wrong woman, such an officer is dead.
He disclosed this on his Twitter handle apparently following what he has witnessed about some officers who married the wrong women and are paying dearly for the mistake.
According to him, any police officer that marries the wrong woman will not only face trouble at home, but would also face more trouble in the course of work as he may not likely concentrate on his job and this may land the officer in trouble.
He advised young officers who are bachelors to choose with wisdom when picking a woman as a wife.
His tweet elicited reactions from his followers who told him that it is not only police officers who will be in deep trouble when they marry wrong wives, but what matters is for people to pray for good women to marry.
Below is the screenshot of the tweet by the Police PRO on the matter: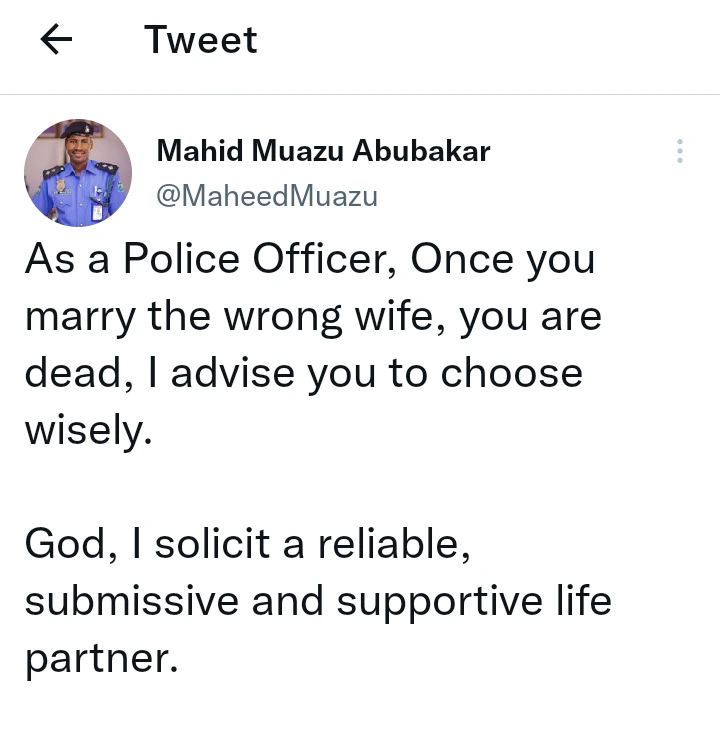 Below are also screenshots of the tweets by two of his followers on the matter: