The presidential candidate of the People's Democratic Party in February 25 general election, Alhaji Atiku Abubakar has congratulated children across the globe over the celebration of Children's day this year.
The former vice president of the country expressed this on his verified facebook page on Saturday, 27th of May 2023.
He wrote, "I congratulate children across the globe and in Nigeria especially, over the celebration of Children's Day this year. The celebration of Children today is to give an opportunity for today's leaders to build a brighter future for society. While May 27 every year has been earmarked for the celebration of children, our world is still troubled with existential threats mitigating the possibility of a promising future for our children.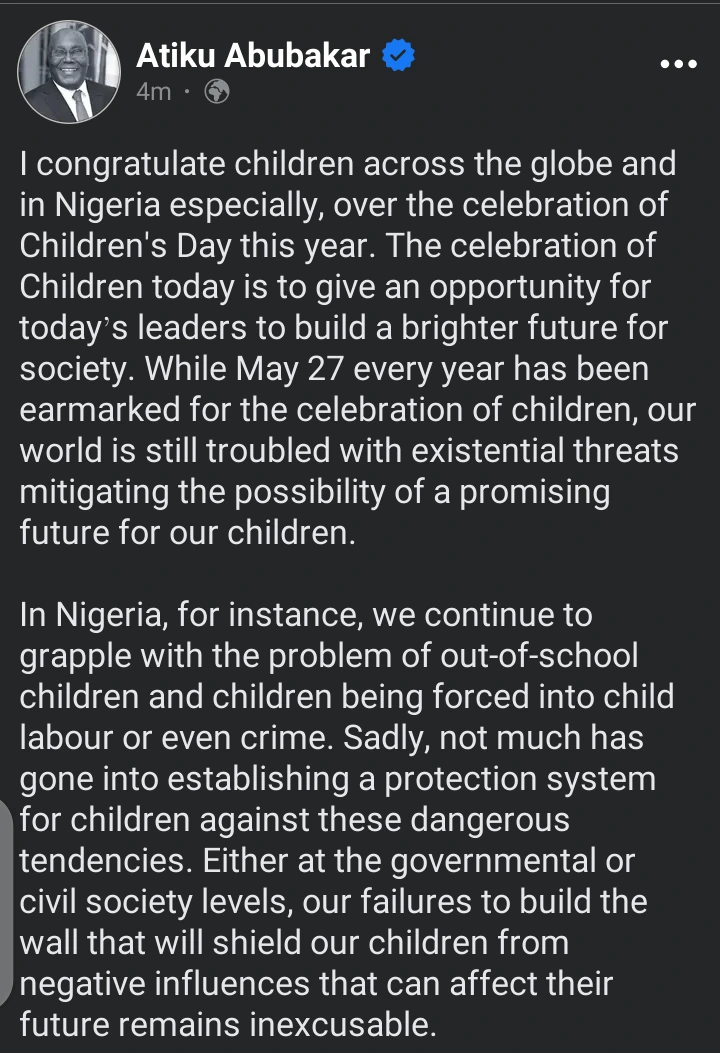 In Nigeria, for instance, we continue to grapple with the problem of out-of-school children and children being forced into child labour or even crime. Sadly, not much has gone into establishing a protection system for children against these dangerous tendencies. Either at the governmental or civil society levels, our failures to build the wall that will shield our children from negative influences that can affect their future remains inexcusable.
I, therefore, call on parents or guardians and all stakeholders in the project of ensuring a better future for the children, to work in synergy and come up with specific policy frameworks that will guarantee a fairer future for the children. -AA #ChildrensDay