In a recent speech, the Vice President-elect, Kashim Ibrahim Shettima, addressed concerns regarding the alleged Islamization agenda attributed to his principal, Asiwaju Bola Ahmed Tinubu. Shettima emphasized that Tinubu, a Muslim, is married to a Christian woman who serves as a pastor at the Redeemed Christian Church of God (RCCG), thereby debunking the claims.
The statement was made during a lecture held in Abuja as part of the activities leading up to Tinubu's inauguration on May 29. Shettima, a former Governor of Borno State and current federal lawmaker representing Borno Central, sought to assure the public that there was no hidden agenda to promote Islamization.
It is noteworthy that Bola Ahmed Tinubu emerged victorious in the highly contested political race, surpassing formidable contenders such as Peter Obi of the Labour Party, Alhaji Atiku Abubakar of the Peoples Democratic Party, and Rabiu Musa Kwankwaso of the New Nigeria Peoples Party. With Tinubu's ascension to the highest political position in the country, concerns regarding an Islamization agenda have been circulating.
Shettima addressed these concerns directly, stating that Tinubu's personal life provides evidence to counter such claims. By highlighting Tinubu's marriage to a Christian woman and her role as a pastor in the RCCG, Shettima aimed to dispel any notion that Tinubu harbors intentions to Islamize the nation. Shettima emphasized that perception plays a crucial role in politics and that Tinubu's actions contradict the allegations made against him.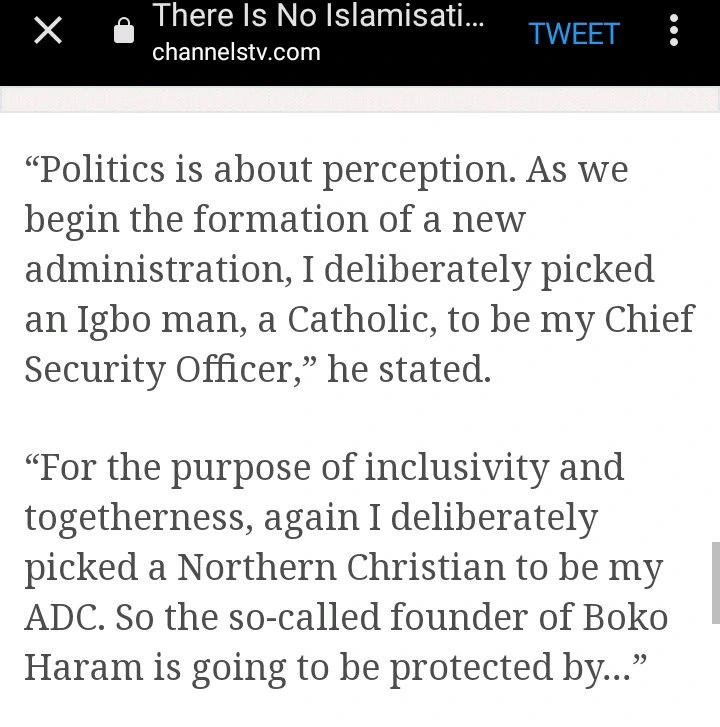 To further illustrate his commitment to inclusivity, Shettima revealed a deliberate decision he made during the formation of his new administration. He appointed an Igbo man who is a practicing Catholic as his Chief Security Officer. This appointment serves as a demonstration of Shettima's willingness to embrace diversity and religious harmony, reinforcing the notion that there is no hidden religious agenda within their political endeavours.