Mr Jibrin Okutepa, SAN, a counsel to the Labour Party and its presidential candidate, Mr Peter Obi, has claimed that some individuals are deliberately frustrating the truth in the judicial processes, so as to perpetuate evil in power.
Speaking further, Mr Okutepa noted that when the judiciary begins to dance political music on fabricated facts, people will see the nakedness of the revered masquerades, stating it clearly that the future is bleak for the Nigerian judiciary.
Speaking further, Mr Okutepa made it known that to get justice on good fact maybe hard in Nigeria, noting that there is pollution everywhere and that truth without coloured facts can't get justice. He went on and demanded to know whether we must always manufacturer facts to get judgement when the truth is already known.
Mr Jibrin Okutepa made this disclosure in a tweet he made on his twitter handle on Saturday morning, stating it clearly that Nigeria is in dare need of truth so as to be free from the quagmire we found ourselves.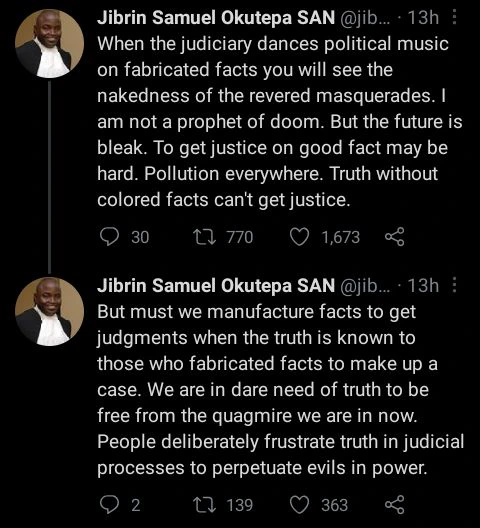 Mr Jibrin Okutepa is making this particular tweet a few hours after the court delivered a judgement in favour of the APC and its Vice Presidential Candidate, Kashim Shettima, regarding his double nomination. Though many will be against what Mr Okutepa has just said here, but he made a valid point.
What is your take on this particular issue? You can drop your comments and opinions below.