Peter Obi, the Labour Party's (LP) presidential candidate, has stated that he supports the abolition of the subsidy provided on petroleum goods, but with a stipulation that should be evident to the general public.
While attending his ongoing election petition case at the Court of Appeal headquarters in Abuja on Tuesday, Peter Obi informed the media of this.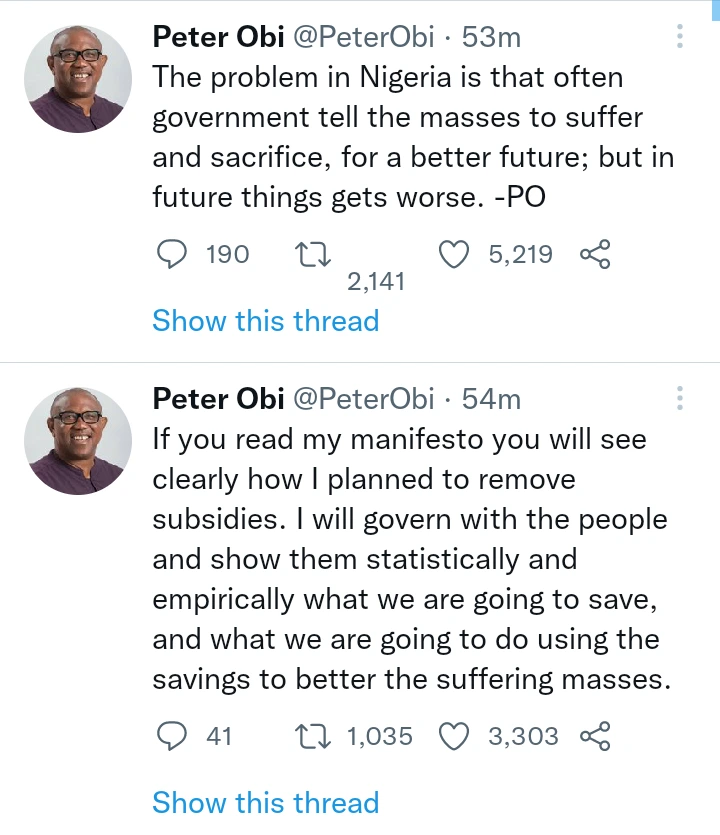 The LP presidential candidate said that under the Goodluck Jonathan administration, when he was a member of the Presidential Economic Management Team, he first expressed support for eliminating subsidies.
If you have been following me closely, you will know that I have insisted that subsidies be eliminated since I view them as a form of organised crime ever since I joined Jonathan's economic management team.
People were merely looting the nation's resources, and I demonstrated empirically in my statistical study that we do not use as much fuel as they claim.
The former governor of Anambra State emphasised the differences between his proposal for subsidy elimination and current national policy.
"A dentist will use a local anaesthetic to numb the area around the tooth so you do not feel pain if you go to him to have a painful tooth pulled," he explained. It differs from yanking the tooth out firmly. You'll experience pain in a different way.
"Since I don't want to experience the anguish of a forcible extraction, I will support the dentist's method while supporting the removal of the tooth.
"Recall that they came up with several relief strategies like Sure-P and others, even when Jonathan wished to abolish it.
"You can clearly see how I intended to eliminate subsidies if you read my manifesto," I said. I will lead alongside the people and demonstrate to them using statistics and empirical evidence what we are obtaining and how we are using it.
When people in Nigeria say, "Let's go and suffer, let's go and sacrifice," they frequently fail to see the fruits of their labours.