According to PUNCH, Benue State Governor Samuel Ortom has described President Muhammadu Buhari's regime as the worst in Nigerian history, stating that the outgoing president "must be told that he failed woefully and Nigerians are feeling the impact of that failure because we are all suffering."
He claimed that the president had thrown the country into unthinkable poverty and insecurity, in contrast to what existed under his predecessor, Goodluck Jonathan.
Ortom remarked at the commissioning of the Benue State Community Volunteer Guards (BSCVGs) headquarters in Makurdi that Buhari had taken Nigeria from the top to the bottom, making life miserable for all Nigerians.
He said, "I served in the administration of then-President Goodluck Jonathan, and we all saw how Nigeria thrived under that administration. We are all aware of the current prices of goods and services.
"We also know what our exchange rate was and what it is now. I urge Nigerians to do an easy comparison to see how horrible things have been under this regime and how the Buhari administration has brought Nigeria several years backward.
"The truth is that we have never seen such a terrible government in Nigeria before.
"Corruption is so pervasive in this government that citizens who steal chicken are imprisoned, but those in authority are allowed to take the riches of the people.
"The President just apologised to Nigerians; we appreciate the apologies, but he must be notified that he failed miserably, and Nigerians are suffering as a result of that failure."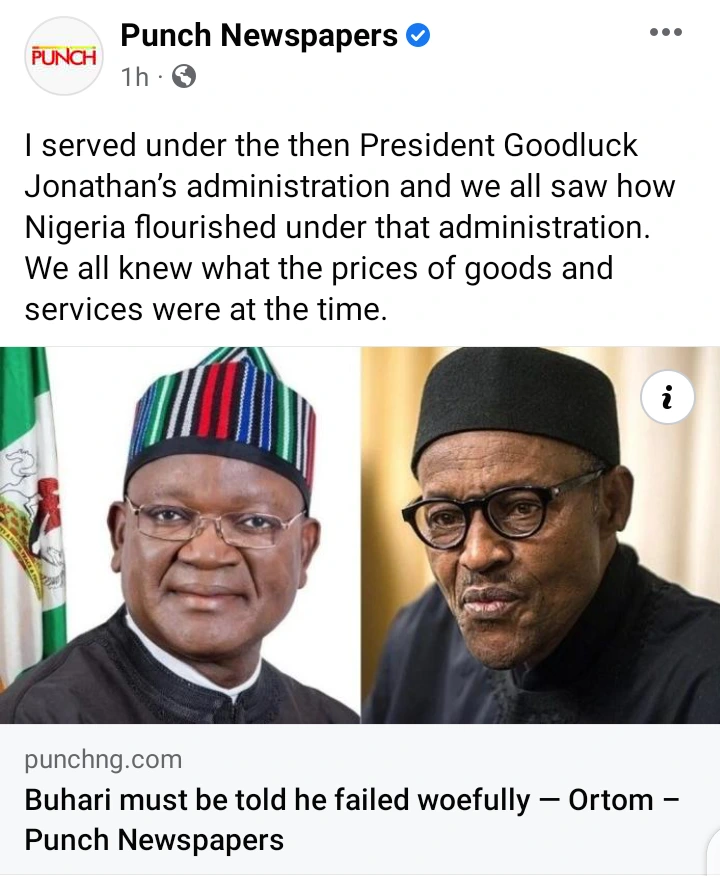 Credit: Facebook
As expected, this development elicited reactions on Facebook as it was shared by PUNCH on their official page.
A Facebook user identified as Iorkyar Simonpeter said, "If PMB is described by Ortom as a failure, then my English isn't good enough to describe Ortom's performance!"
Beete Godson said, "He knows that, and you too also failed fantastically."
Adepiti Akinfolarin Clement said, "And I hope you passed very well as the Governor of Benue State."
Screenshots of people's reactions: