The National Industrial Court in Abuja has upheld the 'no work, no pay' policy implemented by the Federal Government in a case involving the Academic Staff Union of Universities (ASUU).
In a judgment delivered by Justice Benedict Kanyip, the President of the Court, it was ruled that the government has the right to withhold the salaries of workers who participate in industrial actions such as strikes. The court deemed the 'no work, no pay' rule, which was enforced against ASUU members during their strike in the previous year, to be legally valid.
However, the court also declared that the imposition of the Integrated Payroll and Personnel Information System (IPPIS) platform on ASUU members was a violation of university autonomy. ASUU maintains the right to determine how their salaries should be paid, and the court found that the government's imposition of IPPIS infringed upon this autonomy.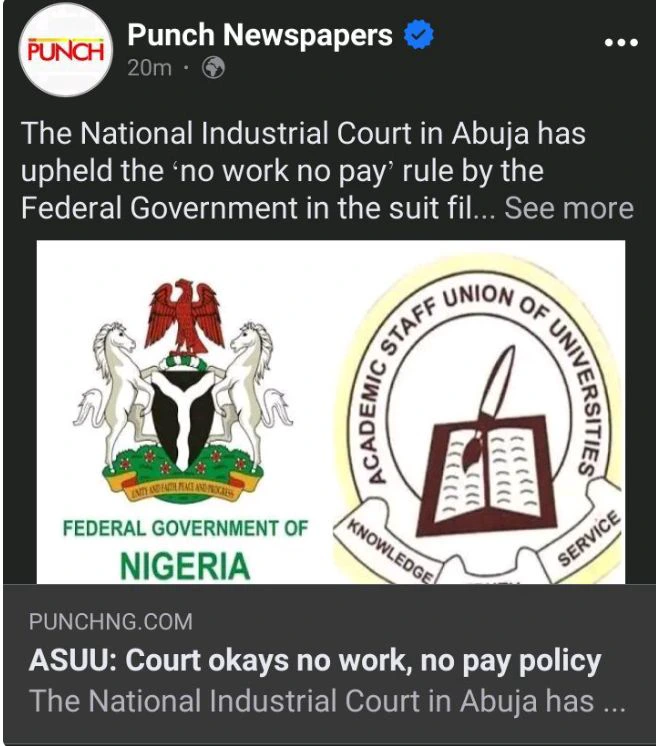 This judgment signifies a mixed outcome for ASUU in their dispute with the Federal Government. While the court upheld the 'no work, no pay' policy, allowing the government to withhold salaries during strikes, it also acknowledged the violation of university autonomy regarding the imposition of the IPPIS system. The ruling provides clarity on these issues and may have implications for future negotiations and actions between ASUU and the government.