The executive Governor of Anambra State, Professor Chukwuma Soludo has revealed what he will do if President Muhammadu Buhari Fails to release the leader of the Indigenous People of Biafra, Nnamdi Kanu.
President Muhammadu Buhari will end his tenure on the 29th of May, 2023 and will be succeeded by the President-elect, Asiwaju Bola Ahmed Tinubu who won the recently-conducted presidential election.
Nnamdi Kanu has been in the custody of the DSS for many months now after his arrest. The detention has generated a lot of reactions from many Nigerians and some notable Igbos have asked the current government to release the IPOB Leader.
Reacting in an exclusive interview with Channels Television, Anambra State Governor, Professor Charles Chukwuma Soludo said; "the call for Kanu's release is a cause he believes in, adding that his latest letter was also copied to the President-elect."
He added; "This is a cause that one believes in. Consistently I am an advocate of the rule of law and justice for all and therefore if you look at that letter, that letter is copied to the President-elect Asiwaju Bola Ahmed Tinubu and I want to also believe that a copy has been delivered to his office as it were."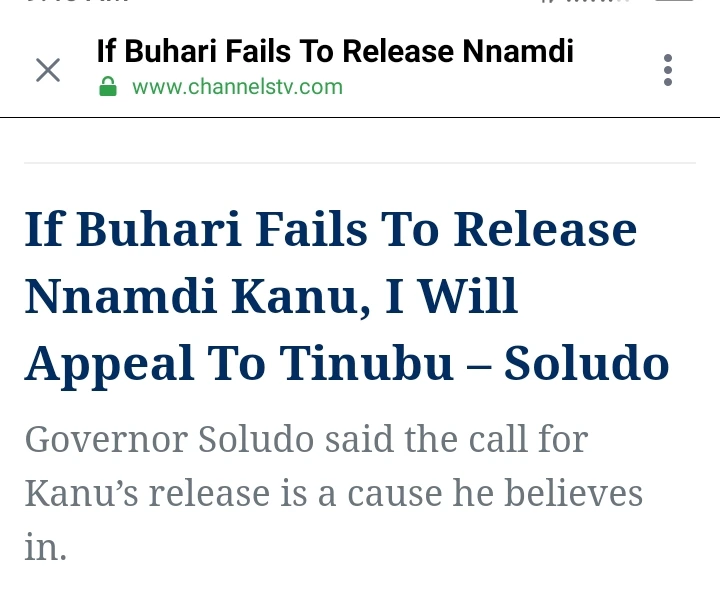 He stated further; "The Attorney General is also copied in this letter and if President Muhammadu Buhari's administration fails to take advantage of this opportunity to really rise above every other thing and be a statesman as it were, if the president fails to take advantage of that, we will be pursuing the same thing with the incoming administration,"